Suppose you buy a 4K Blu-ray player for your latest 4K television. You will need an HDMI 2.0 cable, but unfortunately, you don't have it. What will you do? Try connecting the HDMI 1.3 cable. Does it work?
Yes, it will.
Then, why do we have different HDMI cables like HDMI 1.3, HDMI 1.4, HDMI 2.0 and others? Let's know the myths regarding different versions of HDMI cables.
Table of Contents
What are HDMI 1.3 cables?
Firstly, understand that there is nothing like an HDMI 1.3 cable. There are only HDMI cables in the market.
Then why do people call it HDMI 1.3?
Different HDMI cables are different versions of the same HDMI cable. Each version has some specific standards to meet some unique performance criteria.
The "1.3" in the HDMI 1.3 is not related to the cable but to the HDMI interface version. And you must know that the HDMI interface version differs from the type of HDMI cable.
HDMI interface version:
The source devices like gaming consoles or PCs and display devices like projectors, TVs or monitors have different versions of HDMI input and output ports. The versions state the abilities of an HDMI interface.
You must consider the HDMI version of your device port to ensure that its video/audio connectivity supports a particular format, refresh rate and resolution.
Here is a table describing different HDMI versions and their capabilities:
| | | | | |
| --- | --- | --- | --- | --- |
| Specs | Maximum resolution at refresh rate | Maximum transmission speed | High Dynamic Range | Additional features |
| HDMI 1.0 | 1080p at 60 hertz | 4.95Gb/s | No | 8 audio channels |
| HDMI 1.1 | 1440p at 30 hertz | 4.95Gb/s | No | DVD-A |
| HDMI 1.2 | 1440p at 30 hertz | 4.95Gb/s | No | 1-bit audio like DSD; Peripheral component interconnect express technology; Computer HDMI formats |
| HDMI 1.2a | 1440p at 30 hertz | 4.95Gb/s | No | CEC features; Command sets; The full specification of CEC-compliant tests |
| HDMI 1.3 | 1080p at 60 hertz | 10.2 Gb/s | No | Broad color space; High color depth; Single-link cable connectors (high speed); Lip synchronization; Mini connector; DTS and Dolby True audio format; Support for master audio |
| HDMI 1.4 | 4K at 60 hertz 4:2:0 | 10.2 Gb/s | No | Ethernet and ARC |
| HDMI 2.0 | 4K at 60 hertz4:4:4 | 18Gb/s | Yes | 30-audio channels;High-efficiency advanced audio coding;Dynamic resolution adaptation |
| HDMI 2.1 | 8K at 30 hertz | 48Gb/s | Yes | Enhanced ARC |
HDMI interfaces
HDMI cable version or type:
As you know, there are no integrated circuit controllers with software in the HDMI cable; they do not have any versions. You can't update them to a higher version.
The cables only consist of wires to carry signals from one port to another.
However, different HDMI cables have different wiring quality, determining their performance standards.
Thus, there are no HDMI 1.3 cables, mainly certified ones that support the specifications of the HDMI interface version 1.3.
A table describes the different HDMI cable types with their supported performance standards.
| | |
| --- | --- |
| HDMI cable type | Version supported |
| Standard cable | 1.0-1.2a |
| High-speed cable | 1.3-1.4a |
| Premium high-speed cable | 2.0 a & b |
| Ultra-high-speed cable | 2.1 |
HDMI cables and connectors
Why is there no difference when you use an HDMI 1.3 cable on a different version port?
From the above, we can see that HDMI 1.3 falls under the category of high-speed cables.
The availability of different spec versions, cables, and equipment must bring compatibility issues.
However, in terms of cables, it behaves a bit differently.
You must know that irrespective of the different HDMI cable types, the standard of the HDMI cable is the same in all types.
All cables have the same conductors in similar configurations, similarly connected to the connector.
Only the HDMI 1.4 cable introduces a new "ethernet and ARC" specification resulting from slight changes in the cable configuration.
This is an optional feature, so one cannot assure whether a complaint HDMI supports this spec.
Apart from this feature, all HDMI cables support all other standards like HDCP, colorspace, deep color, multichannel audio formats, etc. It doesn't matter what version it is tested or designed for.
Let's understand this with an example.
Suppose you have a particular spec-certified HDMI cable. Now you buy a new DVD player compliant with the HDMI 1.4 version.
There is no need to change your existing cable or upgrade it. It will work with the HDMI 1.4 as well.
Ethernet channel:
HDMI spec version 1.4 introduced a new feature (optional) "Ethernet and ARC (Audio Return Channel).
This change does not require any changes in the features and protocols of the original specification but did make some changes in the cable design.
All the connectors are the same, and the pin map is almost similar.
However, the only change is that two conductors have a new task. Now, as these two conductors require a high bit rate, the feature requires it to run on 100 ohms twisted wire pair.
In earlier cables, these two pairs were not present as twisted pairs, and as the impedance of a non-twisted pair is unpredictable, it was unsuitable for high-speed data transfer.
Now, you must understand that as this Ethernet and ARC feature is optional, a cable that was working for HDMI 1.3 will also work for devices compliant with HDMI 1.4.
The only difference is that these cables will be termed "cables without ethernet."
Even the new cables get certification as a complaint with HDMI 1.4 and other associated compliance testing specs but as non-ethernet capable HDMI cables.
The certification version number never specifies the capabilities within the cable.
What has changed, then?
Indeed, there are so many changes from one HDMI version to another regarding specifications, but only a few relate to the cables. And all those few changes are insignificant, bringing no significant change in the cable performance.
However, only a few changes are required, and compliance for those few changes should be tested in those cables.
The changes occur at the switch of the main specification version 1.2a and HDMI 1.3. Thus, there are two main HDMI spec compliance: HDMI 1.2 and prior and HDMI 1.3 and after.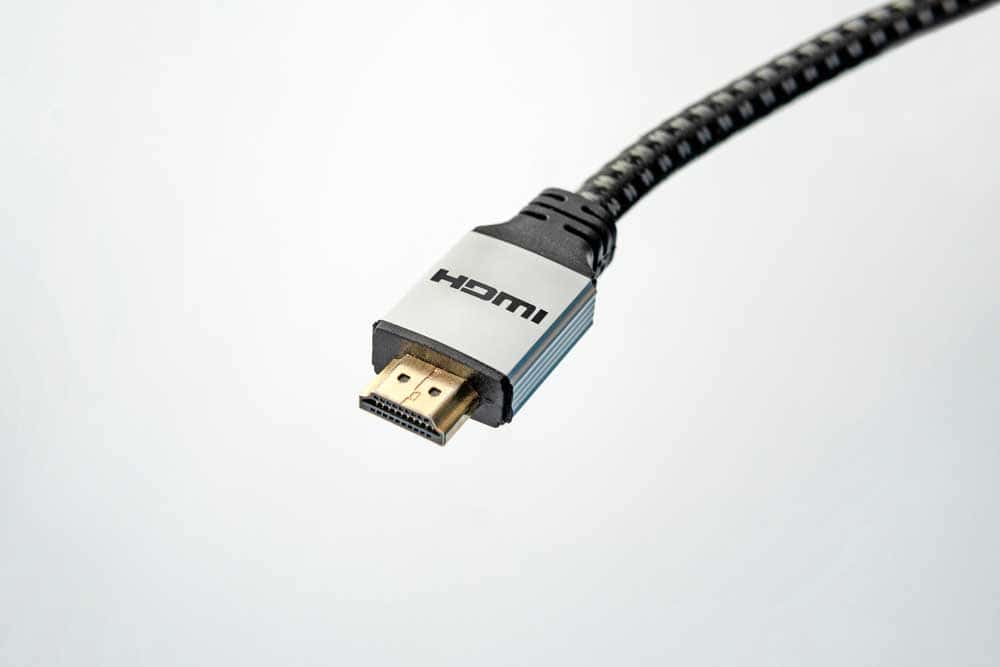 Gold-plated HDMI Cables
Is that all when using an HDMI 1.3 cable on a different version port?
Yes!
The only thing that may concern you is that the cables are designed to work on higher bandwidths as the HDMI version increases.
HDMI 1.3 cannot handle 4K content on paper, but if you use 1.3 for your 4K TV, you may not notice any compression artifacts.
HDMI 1.3 can deliver 24 frames/second, while HDMI 2.0 delivers 60 frames/second. Since movies are stuck at 24 frames per second, HDMI 1.3 will help it without problems.
However, with gaming that often goes out to 60 frames per second, you must use an HDMI 2.0 cable.
If an HDMI cable, like 1.3, capable of carrying 1080p data at 60 hertz, carries 4K video data, it may not do full justice to it.
HDMI licensing position for a cable length and sale of non-compliant cables:
Remember that no particular cable type complies with a specific HDMI version.
They become complaints to the version only after testing and then certified as complaints for an extended or shorter length.
Thus, always ask for a copy of the compliance certificate because the manufacturer may not sell you the same cable length for which he has passed compliance testing.
For example, a large number of 50-foot cables come with HDMI complaints. But are they compliant? If yes, how many? Unfortunately, as per our understanding, NONE.
Yes, there are no cable complaints at that distance except for some active cables having amplifier circuits.
But as far as we discuss passive cables, no cable gets compliance for that length. It's just an exaggeration from the manufacturer, and you should beware of that.
Custom-length HDMI cables
Conclusion:
So, now the doubts regarding different HDMI cables and versions must be clear to you. Whenever buying a new version of a device, don't just throw away your old HDMI cables, as maybe they are still compatible with your new device.
For more information regarding HDMI cables, contact Cloom. We manufacture all types of cable assemblies and wiring harnesses.
Our proficient team can guide you to the most suitable application cables.