This is a guide on the auto wire color codes.
Like AC power circuit color codes, car wire harnesses have a specific insulation color code that defines their function. But the AC standards are different due to factors like multiple phases.
So we'll focus on the auto wire color codes in this article, specifically the car stereo. Read on to learn more.
Table of Contents
Car Stereo Wire Color Coding Standards
Most car owners have changed their car stereo at least once. If you fall in this category, you must have encountered these colored insulated wires.
Red Wire
This ignition or power wire supplies 12V DC from the battery or alternator to the stereo head unit.
This wire runs through the ignition switch to ensure the stereo only turns on when you switch on the vehicle.
Otherwise, the stereo would always be on and drain your battery.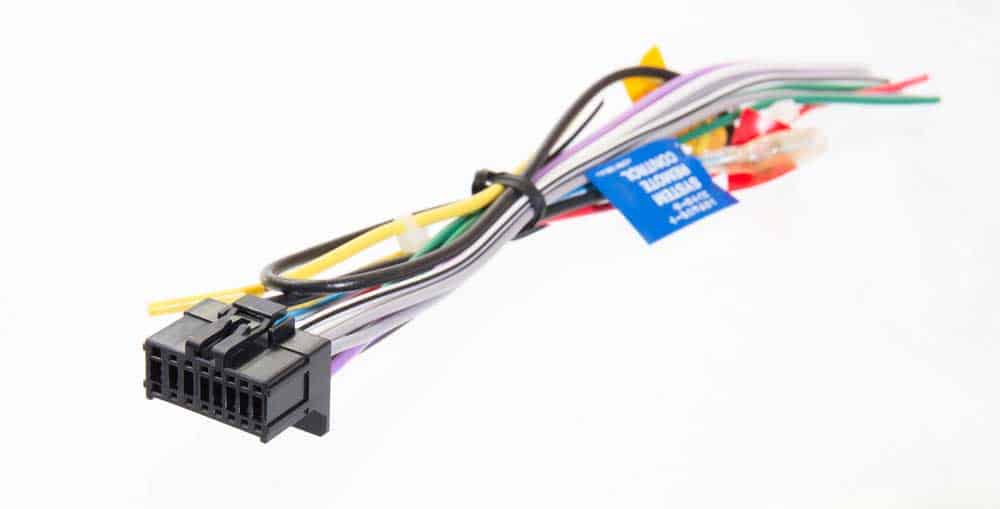 Car audio wiring
Black Wire
Unlike AC power, DC does not have a dedicated ground line. So neutral or negative is the ground wire. And it has black insulation.
The cable grounds all circuits to the car's chassis, creating a potential difference for the current to flow.
This connection ensures direct current flowing through the electrical system remains consistent with no interruptions that can cause static noise.
Orange Wire
Also known as the illumination wire, the orange cable powers the dashboard lights, ensuring they light up when you turn on the vehicle.
And like the red wire, this cable needs a constant 12V power supply connection. So it links to the ignition switch.
In some cases, it might not be orange. It can be a red wire with white stripes.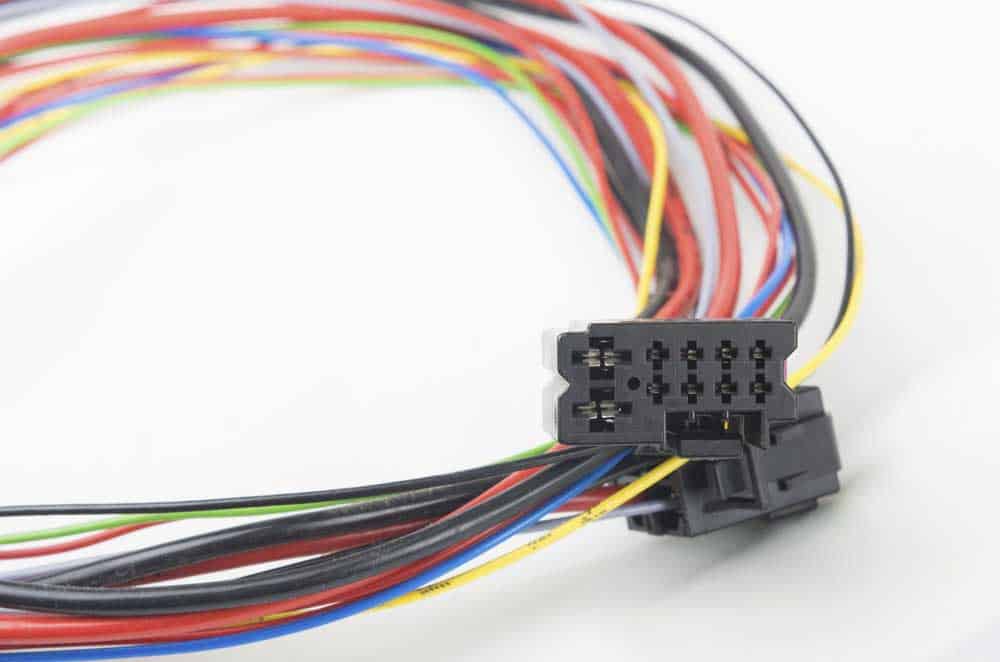 A bundle of electrical car wires
Yellow Wire
Yellow wires are 12V memory or clock signal wires that are always on to preserve the stereo's clock, station presets, and other settings when you turn off the ignition switch.
So unlike the orange and red wires, this cable connects directly to the 12V battery.
But in some cases, this wire can have different or extra functions, such as instructing the radio to switch to a particular frequency range.
So check the stereo's user manual to determine the specific tasks of this cable.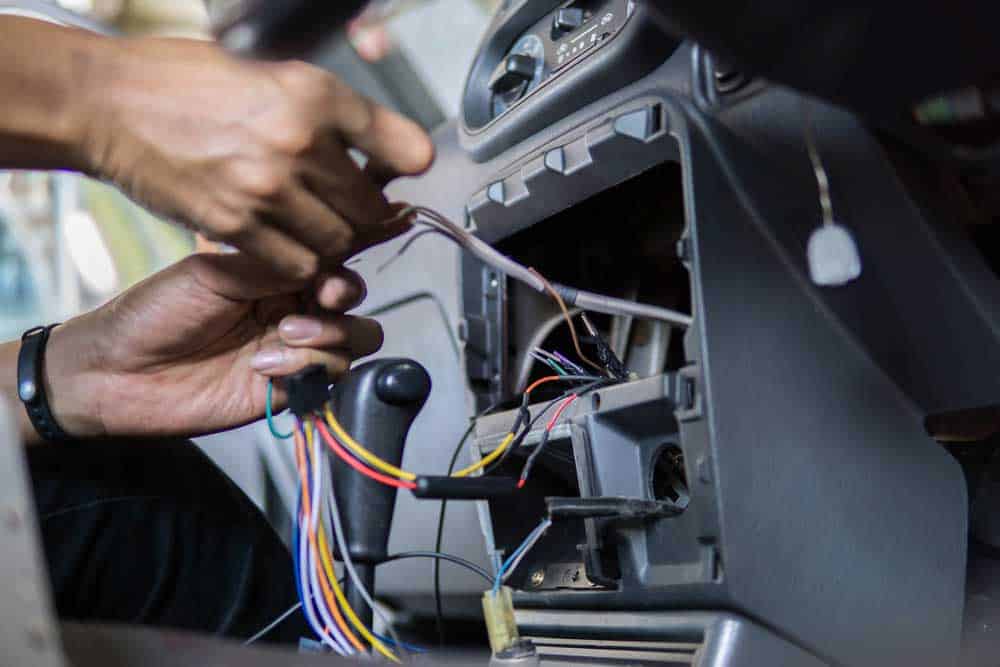 An electrician changing a car's stereo and navigation system
Brown Wire
This wire is a sound-mute wire that cuts all sound signals coming from the head unit to the speakers.
So if you want to pick up a call or get some silence after a long day at work, this cable is your helper.
But some stereos have mute buttons that eliminate the need for the brown wire.
Otherwise, you'll have to use this sound-mute cable or reduce the volume to zero.
Blue Wire
Aftermarket car stereos usually have blue wires to power the antenna, which connects the head unit to radio waves outside.
It requires a connection to the 12V power source, which should be the same one that powers the red, orange, and yellow wires.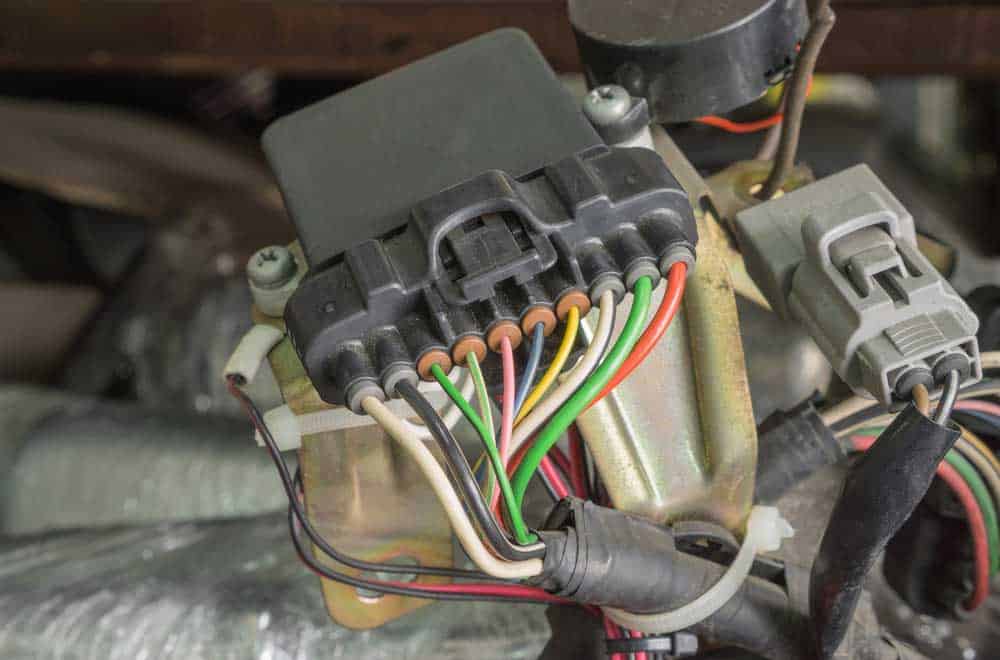 A wiring harness connected to an old car spare part
Failure to connect this antenna wire to the same power source can damage the stereo or diminish its performance.
Other Color-Coded Wires
The other color wires include the following.
Blue for powering the front left speaker (+)
Brown for grounding the front left speaker (-)
Aqua for powering the front right speaker (+)
Beige grounds the front right speaker (-)
Green for powering the rear left speaker (+)
Purple for grounding the rear left speaker (-)
Gray for powering the rear right speaker (+)
White grounds the rear right speaker (-)
Light green for parking brake
Pink for vehicle speed sensing
White stripe wire for adjustable dimming
Blue wire with stripes are amplifier wires
Violet for the reverse gear trigger
Car sound player wiring
ISO Wire Color Standards for Stereo Connections
If you notice other slightly different car stereo cable colors, use this ISO standardization guide to make the relevant electrical connections.
Red for 12V DC power
Black for ground connections
Violet or yellow for 12V memory or clock signals
Green or brown for ignition-switched power wires
Blue or purple for powering the front left speaker (+)
Gray or brown for grounding the front left speaker (-)
Aqua or pink for powering the front right speaker (+)
Violet or white for grounds the front right speaker (-)
Purple or gray for powering the rear left speaker (+)
Black or white for grounding the rear left speaker (-)
Yellow or green for powering the rear right speaker (+)
Red or violet grounds the rear right speaker (-)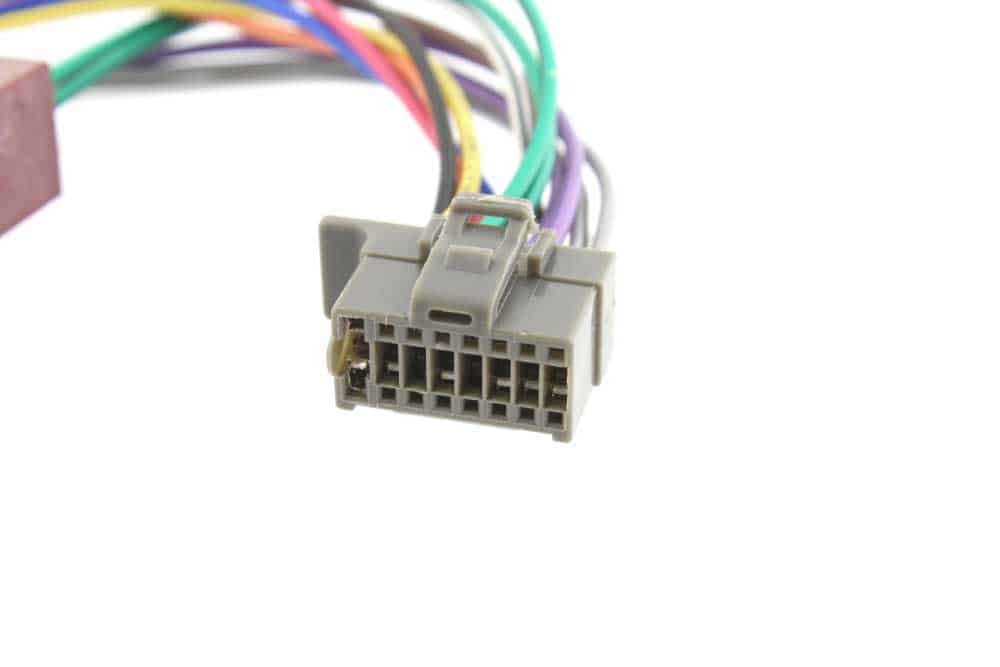 A car audio player connecting cable
AC Electric Wire Color Codes
AC color codes differ from their auto counterparts and can vary depending on the country or region. It is best to use standards to define the wire colors per country.
For instance, the US uses the National Electrical Code (NEC) color coding system to standardize wire insulation coloring. Last updated in 2020, these cable labeling standards include the following.
Electrical wiring inside a circuit breaker panel
Black Wires
Black insulation wires carry electric current, so they are hot. In households, these wires transport electric current from power sources (circuit breaker panels) to light switches, power outlets, wall switches, etc.
Red Wires
Red-colored wires are usually secondary hot wires in 240V household installations.
White Wires with Red or Black Tape
The black or red tape augmented on these white wires indicates the cable is hot.
So if you don't have black or red wires, you can use white wires with these tapes to show they are primary and secondary live wires.
An electrician fixing a heavy air conditioning unit on the rooftop of a building
Bare Copper Wires
Bare copper wires are ground wires that provide a safe path for electricity to travel in case of an electrical fault.
Green Wires or Green With Yellow Stripes
Like bare copper, green or green with yellow stripe wires are ground wires that evacuate excess electric current out of the system if there are faults. So both are safety wires for AC circuits.
Gray or White Wires
White or gray wires are neutral conductors that complete the AC circuit by returning to the circuit breaker box.
Unlike the zero potential ground wires, these neutral wires can have some electric power. So they can give you an electrical shock if handled without care.
Blue and Yellow Wires
Blue and yellow cables are live wires but not secondary like the red ones. Instead, they are the primary wires in multi-phase systems or three-way/four-way switches.
Benefits of Using Wire Color Coding Standards
Color coding gives these advantages in auto wiring.
Easy Identification
Wire insulation colors make it easy to identify the function of the cable when making electrical connections or troubleshooting issues.
Minimizes Wiring and Repair Errors
Incorrect wires connections can damage components or cause device malfunctions.
Color codes ensure precise connections during installation or repairs to prevent expensive or annoying errors.
Standardization
This color coding is standard among different wire harness manufacturers. So you don't have to relearn or go through detailed user manuals if you are an experienced wiring technician.
Enhances Safety
Wire color coding prevents electrical hazards like fires by ensuring correct cable connection and device installation.
Wrap Up
As you can see, auto-wire color codes vary in bits, but the function color meanings are almost standard.
The most significant difference applies when comparing car-wire harness color codes with their AC counterparts for household applications.
So you cannot use the same wiring knowledge for housing in cars.
Contact us if you encounter odd colors when working on your auto-wiring system. We'll be happy to help.