If you are wiring any part of your vehicle, it is essential to have an automotive crimping tool to create firm crimps using butt connectors and the like.
Most electricians prefer to crimp connections instead of soldering because the joints are sturdier, and the process does not require heat.
So, when wiring your vehicle's stereo, sensors, or any other component, we recommend implementing a crimp connection. And here are the best automotive crimping tools you can use in the market.
Table of Contents
Best Automotive Crimping Tools
Let's look at the top four pieces you should consider buying.
iCrimp Ratcheting Crimping Tool – Best Overall Crimping Tool
This crimp tool takes the top spot because it is a complete 8-piece set with a wire cutter/stripper, crimping tool, and six jaws for crimping various terminals and gauges.
The pair of crimping pliers is a handheld type with a ratcheting mechanism, and it comes with a 03C jaw built in for handling insulated terminals with wires ranging from 20 – 10 AWG.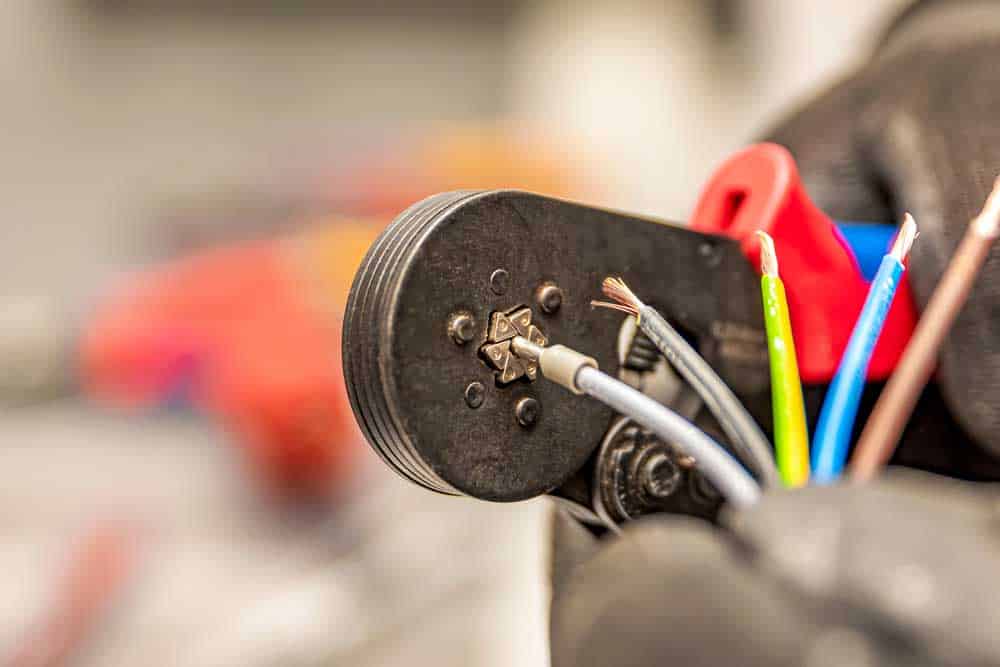 A handheld wire crimping tool
04B has the same wire gauge range as 03C, but the 125 has a slightly broader (22 – 10). However, the application for the two varies from 03C. 04B is ideal for open barrel terminals, while 125 works well with heat-shrink connectors.
The last three jaws are 10N, 10WF, and 35WF. 10N and 10WF have similar wire gauge and capacity ranges, which are 20 – 8 and 0.5 – 10mm2, respectively.
But 35WF handles the thickest wires ranging from 8 – 2 AWG.
TEMCo Hammer Lug Crimper Tool V2 – Best Hammer Crimping Tool
TEMCo's hammer crimp tool is unique because it requires a hammer to crimp the wire to the connector. It features a spring-loaded ram that secures the terminal when inserting the wire. After that, place the device on a solid surface, then hammer it once or twice until it feels solid.
Hammer crimp tools are also dieless. Dieless crimpers have infinite adjustability, which means you can create solid crimps regardless of the terminal wall thickness or wire size tolerance.
Application-wise, the unit is ideal for crimping non-insulated terminals ranging from 8 – 4/0 gauge (0000). And it has a black oxide coating on the crimp head to ensure it won't flake or chip.
TEMCo TH0006 Terminal Crimper – Best Hydraulic Automotive Crimping Tool
Although they require manual pumping, hydraulic wire crimping tools magnify the crimping pressure applied to the joint, meaning you don't have to crimp with excess force.
This TH0006 amplifies it to a maximum of 5 US tons, which is impressive.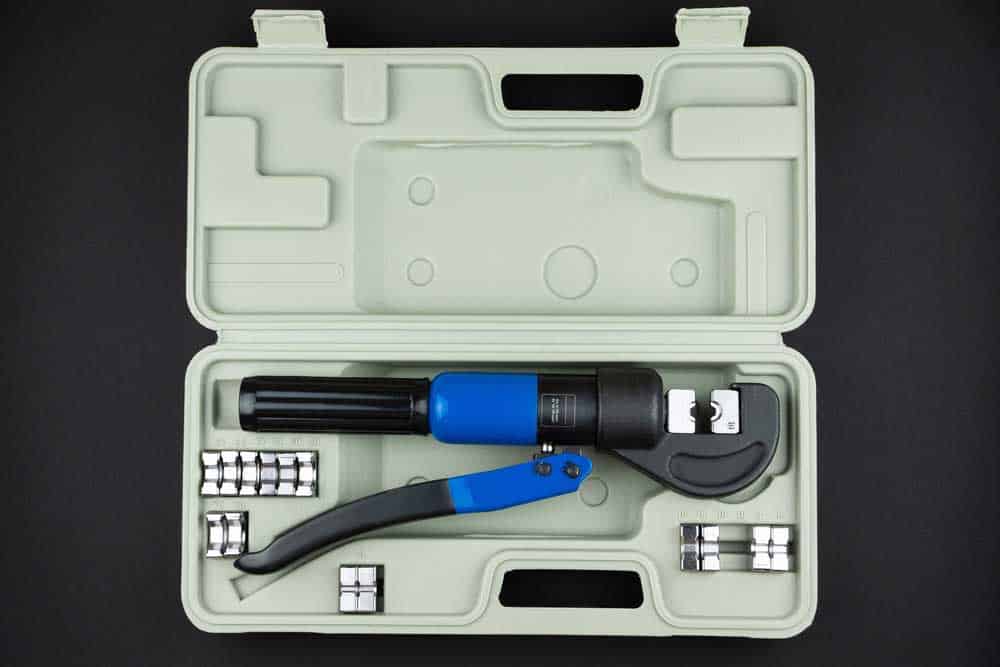 A manual press hydraulic crimping tool with multiple dies packaged in a case
The device comes as a kit containing 18 die sets with wire gauge sizes ranging from 12 – 2/0 (00). These include nine standard AWG sizes and nine proprietary half sizes to fit and crimp non-standard lug types.
Each of these 18 dies is a true-hex crimp that applies even pressure on all sides to maximize the pullout pressure.
iCrimp HX-50Bl – Best Heavy-Duty Crimping Tool
Hydraulic wire crimper tools are known for their high crimping power/output pressure, making them ideal for heavy-duty crimping.
But the HX-50Bl is a handheld unit. Its heavy-duty characteristic is in its design. It has a high-quality carbon-steel construction with a corrosion-resistant finish, making it highly durable.
Additionally, the tool has longer handles than regular handheld crimpers to enable higher-pressure application. Plus, it has finger grooves on the handles to give you maximum grip when crimping.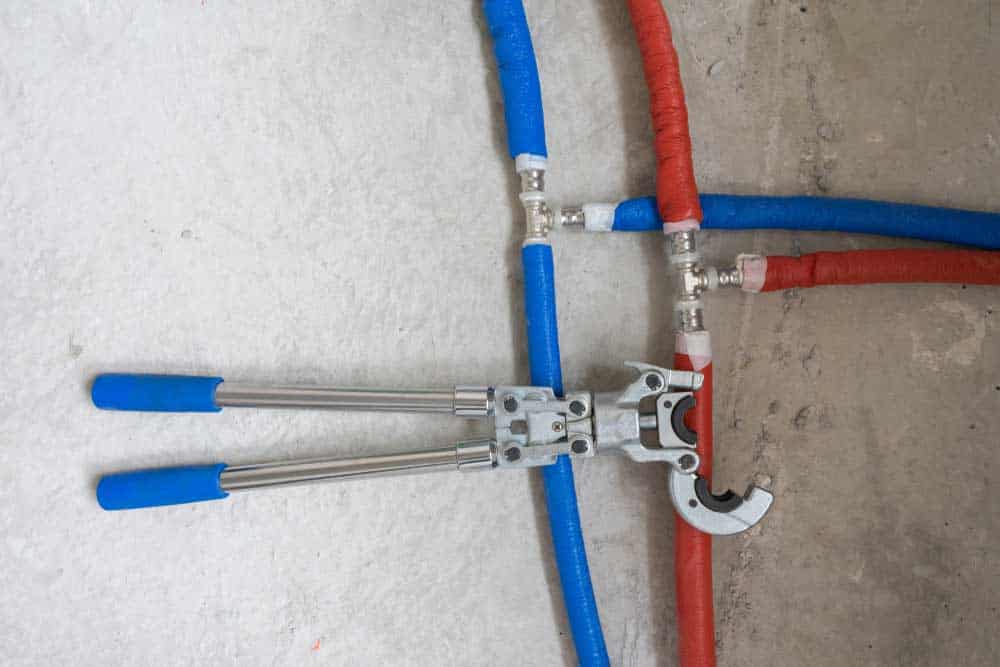 A long-handle crimping tool
The HX-50Bl has a crimping range of 8 – 1/0, and it uses high-precision dies processed using wire EDM cutting. This manufacturing process makes them more precise than when cast.
Factors To Consider Before Buying a Crimping Tool
Consider these factors to buy a tool that fits your crimping requirements.
Type of Crimping Tool
Crimping tools come in three types.
Handheld Crimping Tool
These are the most common types of crimping tools because they are compact crimpers, affordable, and easy to use. The only issue is that they might not produce the strongest crimps, especially when joining thick cables, because they have short handles.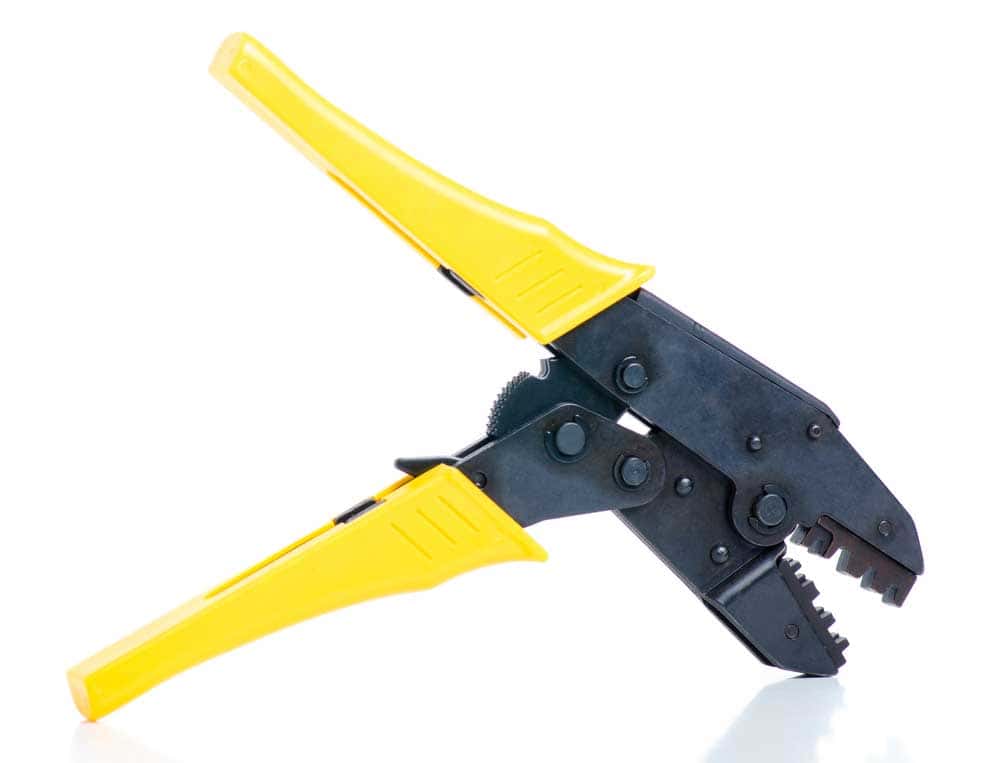 A handheld crimping tool
However, some variations have long handles that enable you to apply more pressure. Others are ratcheting crimpers that give consistent and repeatable pressure.
Handheld crimping tools usually have interchangeable jaws or dies to give a broad crimping range and can come with wire strippers/cutters to form a complete set.
Hydraulic Crimping Tool
Hydraulic crimping tools use lever-actuated oil-filled cylinders to multiply the input pressure to a high output pressure measured in tons.
Like their handheld counterparts, these tools feature interchangeable dies to increase the crimping range. However, they are more suitable for heavy-duty applications due to their firm biting force.
However, these devices need occasional maintenance, such as oil changing and air purging from the cylinder, to maintain optimal performance.
Hammer Crimping Tool
Although simple devices, hammer crimping tools can create sturdy crimps due to the hammering effect. So you can use them for heavy-duty crimping, such as when connecting the battery-starter wire to its terminals.
Another unique feature of this crimping tool type is its dieless design. It has a height-adjustable wedge-shaped ram that eliminates the need for multiple dies.
This ram presses the connector into a V-shaped groove to fuse it to the wire.
You only need a 2-pound sledgehammer at least to do the job and a firm surface to place the tool.
Compatibility
When considering a crimping tool's compatibility, we look at its American wire gauge range and applications.
These devices usually have a wire gauge range they can crimp, so you must pick one that can handle the wires and terminal types you are working on.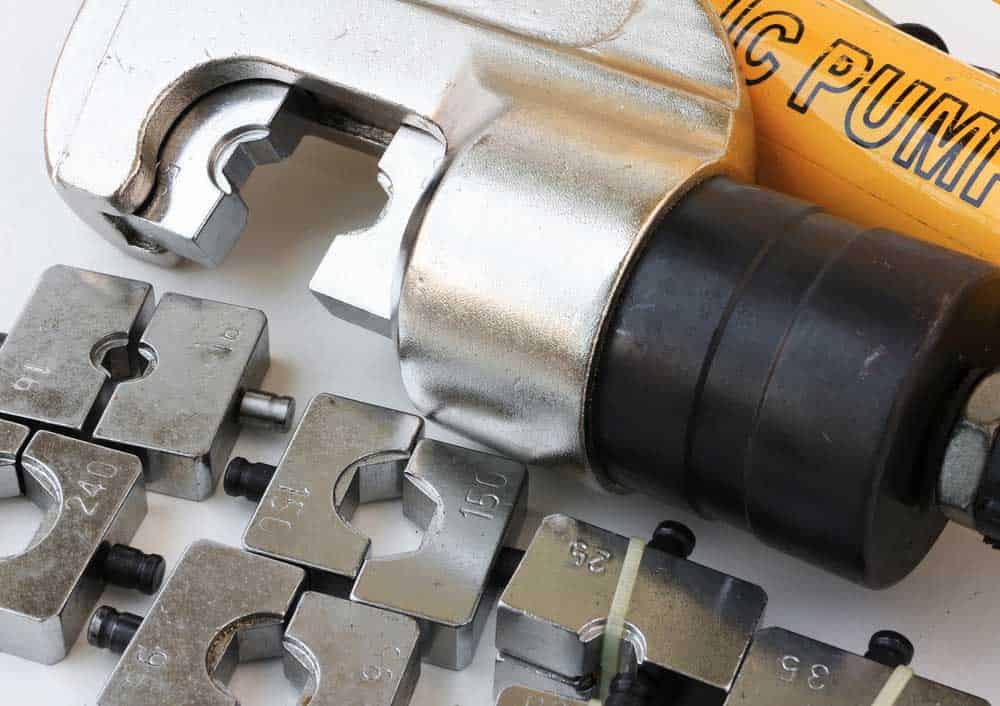 An up-close image of a hydraulic crimper tool set with multiple dies
Also, they have specific applications, which specify the appropriate electrical connector types you can use them on.
Handheld units are the most versatile when considering this factor because they come with different jaws that can handle multiple connectors in a broad range of gauges.
Material
Steel metal is the most typical material used to make these tools. Variations like hardened or high-carbon steel are better because they can withstand more abuse.
Hammer and hydraulic units usually have these material constructions, but handheld units have regular steel.
However, some have high-carbon steel constructions, making them more heavy-duty.
Cost
Hydraulic crimping tools are expensive, but they deliver a firm punch. Hammer units follow suit price-wise, with handheld units being the cheapest.
We recommend buying a hydraulic or hammer unit if you own an auto shop and do regular battery cable crimping.
But you'd better go for a handheld crimping tool if you crimp occasionally in DIY projects. In this case, consider the unit's versatility and compatibility.
Wrap Up
Crimping tools are some of the most essential tools you'll need for your car wiring project, and the four we've looked at above are suitable for varied applications.
So, pick the one that is most suitable for your project, and let us know if you need help picking one. We'll be happy to help.
Also, check out these different types of automotive wire harness connectors to see which are the most suitable for your project.