Are automotive wire harness clips necessary? A car wire harness is handy in bundling tens of wires together, ensuring they don't lie all over the place. But their role would be pointless if cable clips didn't support them.
The fixtures hold the harnesses, ensuring wires don't move all over when driving. If you wonder what are some of the best automotive wire harness clips and what particular role they play, you're in the right place.
We'll discuss their characteristics in detail in this article.
Table of Contents
What are Automotive Wire Harness Clips?
They are fixtures that help hold long stretches of wires, cables, harnesses, and pipes in place in the car. There are different cable clip designs, each specialized for a particular role.
Automotive cable clips are similar to the common household clips we use to secure wall cables.
Benefits of Using Wire Harness Clips
Cable Clips in Use.
Auto manufacturers and mechanics use cable clips to secure wires in place for many reasons.
The apparent role is to curtail cable tangling. When cable harnesses are left independently without a fastener, they'll likely sag. Sagged cables are culpable of dangling from point to point in the car, and if they contact the hot engine chambers, they may get scorched.
Wire harness clips in a car also prevent electrical accidents, which can be fatal.
Having cables lying all over the place is a trip hazard. Wire harness clips (not necessarily in autos) solve this issue by containing the cables in place.
Autos and spaces where cable clips are used to secure the wires are neat. Hence, there's excellent space optimization, leaving room for fixing other components.
Investing in one cable clip type means you're sorted in most of your clipping needs, as most are versatile.
They are easy to install. So, given the apparent upsides discussed above, setting them up is hassle-free.
The Difference Between a Cable Clamp and a Cable Clip
Yellow Cables with a clip.
The fundamental role of clamps is to create the routing path of cables. On the other hand, cable clips are essential in mounting wires to a surface. But you can still use cable clamps for the role fulfilled by cable clips.
Types of Automotive Wire Harness Clips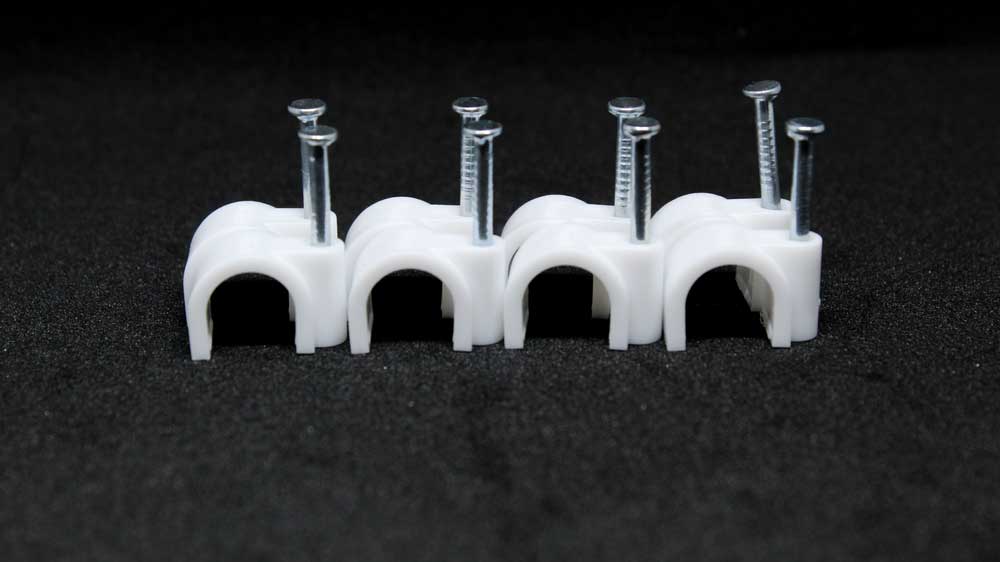 Numerous Nail Cable Clips
Self Adhesive Cable Clips
As per their names, these clips have an adhesive for mounting onto a surface. So you don't have to nail one end of the clip onto a surface.
They feature a sticky surface on the backside that you can simply peel off and place on the wall.
Nail Cable Clips
Also called wall clips, these are renowned for their nails on one corner of the cable for affixing to the wall.
They are among the most popular clips thanks to their multipurpose role. Other typical applications of the cable clips include:
Nailing ethernet cables to the wall
Affixing TV cables on the wall for a tidy house
Owing to their nail part, they are so common in autoworks.
Screw-In Cable Clips
A Screw-In Cable Clip.
They feature a screw and are handy in securing thick cables more strongly than the self-adhesive cable clips.
One of their common uses is holding PMA conduits in place. High-pressure washdowns also use these cable clips thanks to their excellent strain relief.
Round cable clips
They are round-shaped and have an adhesive on one end for attachment to the wall. But there's also the clips' screw-down and nail-in option for a stronger attachment.
Their applications are similar to those of screwing cable clips.
Flat Cable Clips
Their flat shape makes them the best cable clips for holding flat cables flush to the wall. Often, they are handy in electrical work, although their profile also allows use in securing ethernet wires to the wall.
There are two main types of flat cable clips, the most common being self-adhesive.
Coaxial Cable Clips
The coaxial cable clips are the best fit for securing stereo systems and home entertainment components. They have an easy-to-remove design, making them perfect for temporary work.
Also, with the design, it is straightforward to change the positioning of the wires or reinforce their hold if they become saggy.
Saddle Cable Clips
Saddle clips are the perfect solution for attaching wires to the wall while maintaining a natural appearance. They also reduce the chafing and strain and are metallic or plastic-made.
P-Cable Clips
As per their name, they resemble the letter P when closed. They have a metallic ring around their circumference featuring holes on the ends onto which to drive a screw in.
Thanks to this feature, they create a solid bond. Their plastic casing also allows for normal expansion once the clip is set.
Metallic Cable Clips
This type is the perfect fit if you're looking for a cable clip that can withstand harsh industrial conditions. They are hardy and remain in good shape even after exposure to chemicals and environmental conditions.
Hence, they are ideal for holding outdoor-based cables in the desired position.
Most common metallic cable cables are made of steel, brass, and stainless steel.
Metal Cable Clips vs. Plastic Cable Clips
Plastic cable clips with steel nails.
There are many makeup materials for the metallic cable clips. They include the following:
Stainless Steel
Copper
Steel
Aluminum
For those whose primary material is stainless steel, there's usually a coating of zinc to prevent rusting and increase the service life of the clip.
Others have a rubber covering instead of zinc, which serves a similar purpose of corrosion protection. Such a clip is the p-cable clip.
Copper and brass clips are also very durable, but this also depends on where they're being used.
If, in instances in their application, there's a chance they'll interact with stainless steel, it's essential to use alternatives with plastic covers. It is because, in such a state, they are highly rust-proof.
So, are plastic clips better than metallic ones? Again, it all depends on the particular application.
Factors to Consider When Choosing Wire Harness Clips
A Screw In Cable Clip in Use.
Here are the major factors you must take into consideration.
You must pick a cable clip size that matches the cable you want to support. A smaller clip than necessary can harm the cables and affect their conductivity.
The space you're operating in is also a big issue. If the space is too small, go for a small clip that is easy to install where you're operating.
Thirdly, ensure the cable fits the environment in which you're using it. For instance, if you're clipping a cable in a hot environment, it's essential to use a cable clip whose material withstands heat.
What installation technique are you using? For example, does your surface allow for the use of screw-based clips? Also, if you opt for the adhesive-based clips, can they withstand the prevailing temperatures where you install them?
The number of cables you are holding also matters. If you're dealing with a large cable mass, you must use a relatively large clip to accommodate them. On the same point, you must consider the cable clip limit. It must manage the load size of the wires you're dealing with.
Finally, you must consider the nature of the clipping you're looking to achieve based on the permanency of the bond. If you intend to remove the cables often, the adhesive types will be handy as they are easy to remove without damaging the wall.
How to Install Wire Harness Clips Correctly
The essence of using cable clips is ensuring your wires are neatly arranged. But what is the best procedure/practice during installation?
The rule of thumb is that you must clean the surface before the installation. Once clean, mark the positions where you want to place the cable clips.
Next, attach them. If you use nail cable clips, you'll need a small hammer to nail them onto the wall.
Now it's time to clip the cables and finally clip them.
Summary
Finding the right cable clip is the best decision you'll make because, as we have seen, they have differing roles.
Also, you must pay attention to the kind of surface you're dealing with. If you want to protect the wall or remove the clips at some point, the self-adhesive types are the best bet.
For environments with chemicals, go for metallic clips. The bottom line is to pick what best suits the application and scenario.