Automotive wire harness engineering books come in handy for anyone who'd like to dive deeper into this field.
Why? Books contain a lot of timeless knowledge that never ceases to be helpful despite the everchanging auto technology.
The basics of automotive wire harnesses will always remain the same. Hence, to thoroughly understand what to do when dealing with different scenarios, you must seek knowledge from the best books.
Let's check out these top ten automotive wire harness engineering books.
Custom Auto Wiring & Electrical HP1545 1st Edition by Matt Strong
It is the number one go-to book for those seeking to understand the workings of OEM automotive electrical systems. Grab this book to get detailed insights into car electrical system basics, such as the following:
Basic wiring methods and components and proper equipment used,
The electrical theories behind every wiring practice,
Car electrical systems troubleshooting methods and common remedies,
Custom wiring harnesses for various systems, such as restorations and racing,
How to wire special electrical systems such as the stereo equipment,
Everything about the premade wiring harnesses,
The working of the dashboard components
Complex wiring processes such as trailer wiring.
So grab a copy and delve into the bottomless array of auto-wiring harness information.
Advanced Custom Motorcycle Wiring- Revised Edition by Jeff Zielinski
Are you a motorcycle owner looking to dig deep into the world of auto electrical repairs? If so, this is your kind of book. It's enriched with all sorts of proper bike wiring information you'd want about your motorcycle wiring.
So, if you want a glimpse of the basic chopper wiring diagrams or even complex tasks and schematics of motorcycle electricals, look no further.
What's more, you can also gain many insights from the numerous illustrations and displays in the book. There are approximately 350 photos of wiring systems and in-depth explanations of how to undertake basic to complex wiring works.
Automotive Wiring and Electrical Systems (Workbench Series) by Tony Candela
The book is written in simple English and covers the electrical principles and basics such as Ohm's law, resistance, and amperage.
It lays the ground first for the amateur reader who knows nothing about electricals to get the basics. Thanks to the simple basic approach, this helps readers understand complex electrical systems better.
In addition, the book provides an in-depth exposition of the tools and equipment required for all automotive repairs and works. Other details covered include:
How to make complex circuits,
Design and assembly of Multi-Function circuits
The installation process for various aftermarket electronic systems and parts,
Addition of late-model electronic accessories and ensuring they're compatible with former models,
Basic repairs and best troubleshooting practices.
Everything Electrical: How To Use All The Functions On Your Multimeter by Vincent Keler
Learn the multimeter use tips from this expert book that covers all the details about this electrical component. Know how to select the ideal multimeter settings depending on the parameter you want to test.
Also, most importantly, the book is enriched with color pictures and illustrations showcasing the various case scenarios to help you understand fast.
Make sure to pick the revised version of the book. It is equipped with better illustrations and new explanations in parts that needed to be clarified in the previous edition. Also, if you find anything hazy on topics like AC and DC, types of multimeters, and such, this is your book.
It's thus a real scoop with insights on multimeters and additional tips that will be useful during popular wiring projects.
How to Diagnose and Repair Automotive Electrical Systems (Motorbooks Workshop) by Tracy Martin
This book is by an automotive engineering expert, Tracy Martin, an ASE (Automotive Service Excellence) Certified Master Technician.
The writer is rich in info on creating auto wiring systems for cars, especially the classic and conventional car models. So, if you want to find your war around your vintage car electricals, this book will get you there.
In the book, Tracy provides a wide range of exquisite insights into the basics of vehicle wiring. It includes the workings of the basic 12V battery found on any car.
He then elaborates on other aspects, such as fuel injection, charging, car ignition, and diagnostic tools.
Further, the book discusses how to read simple wiring diagrams. Therefore, you can apply this book as a DIY depth guide for simple wiring repairs.
Also, it is the best diagnostic tool you can have for yourself. Buy and read it often to stock your auto wiring repairs repository.
Automotive Wiring: A Practical Guide to Wiring Your Hot Rod or Custom Car (Motorbooks Workshop) by Dennis W Parks
Here's a helpful book if you're a custom enthusiast who'd rather create your car wiring from scratch than go for a ready-made set.
In the latest edition, Dennis Park addresses basic auto wiring skills and practices such as the hot rod from scratch and traditional custom.
It's an excellent book that walks you through all the details of custom wiring, starting with purchasing the right tools and components for each process.
Also, you will learn more about the best wire type and gauge for every wiring automotive task. The book provides the most ideal connection in each case.
Other details include insights on choosing the best configurations and installations. It also has a troubleshooting section addressing how to treat the various problems that can arise during the installations.
Automotive Electrical Handbook (HP 387) by Jim Horner
It's an automotive wiring book classic that has withstood the test of time. Despite being published in 1987, it still covers practical information applicable today.
The writer, Jim Horner, shares his experience dealing with car auto wiring repairs in a simple language despite his unimaginable expertise.
The book is ideal for DIY enthusiasts, especially those with earlier-model cars looking to build their automotive wiring harnesses from scratch.
It covers car electrical theory fundamentals, how to use electrical test equipment, and circuit diagrams, among other insights.
It's also loaded with photos and illustrations to make your learning experience a breeze.
Pick this book and learn how to create your wire harness from scratch the old-school way.
Automotive Electrical Haynes TECHBOOK (Haynes Repair Manuals)
Like the book above, this is another oldie by a car enthusiast enriched with timeless automotive electrical repairs info. Learn about the electrical basics from it, plus gain insights on troubleshooting chassis and electrical systems.
The book will also equip you with tips on repairing and maintaining your electrical and electronic systems. It has all the ingredients you need for these jobs if you're wiring or even rewiring.
Its most outstanding feature is the step-by-step explanations of wiring concepts and processes. Also, it comes with loads of features to help you understand the details better.
Hot Rod Wiring: A Detailed How-To Guide (Hot Rod Basics) by Dennis Overholser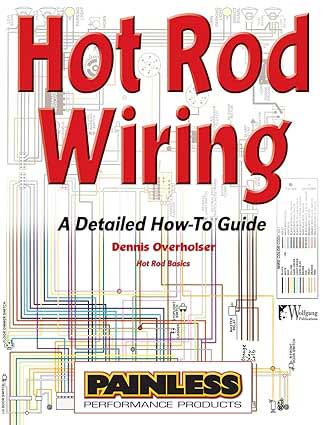 Does taking up a car auto wiring job give you chills? Read this book; all intimidating wiring tasks will look like a basic car repair job. It has everything you need to take on the task yourself as it helps in processes such as the following:
Choosing the most ideal components for the job at hand,
Get a suitable harness kit,
And build everything from scratch as long as you have the parts.
Another perk of this step guide is that it provides wholesome knowledge applicable to all cars. Whether yours is the newest fuel-injected V-8 or a simple classic 32 Ford, this book you covered.
It specifically discusses the hot rod basics while considering the newest changes in car technology. If this is the area that troubles you, the book by Overholser best addresses this issue.
Automotive Wire Harness Engineering Books: AUTO ELECTRONICS WIRING: Simplified Auto Electrical by Simfukwe Joe Alfred
This auto electronics wiring book was published in 2022, meaning it is equipped with the latest details on how to do a perfect job on a modern car.
It helps you navigate the complex contemporary car systems that are otherwise not covered in most of the automotive books covered above.
If you are an auto mechanic trying to come to terms with the newest auto-wiring technologies or simply a DIY repairer, this book will help.
What's more, it has just 175 pages, meaning you can read it all in just a few weeks.
Summary
In an era where most people rely on the internet for almost everything, many people have shunned the information in books.
But there are no better sources than the publications we've covered above on car auto wiring and creating harnesses.
So don't only rely on the DIY tips you get online from a simple Googling. Take the step to read the above books to equip yourself with the inside workings of car electrical systems, among other details.