It is typical to see vehicle wires wrapped in corrugated plastic tubes, but what if you want a more flexible harness? The braided wire harness is your best bet and comes in several types.
Let's look at this wire assembly cover to determine its benefits and why you should consider using it.
Table of Contents
What Is a Braided Wire Harness?
"Braid" refers to a complex structure formed by interlacing at least three strands of flexible material. So, the most straightforward braid pattern contains three strands in a flat, solid design.
Braided wire harnesses are flexible but sturdy woven structures made using semi-rigid materials. Their function is to organize and protect cable assemblies like what corrugated tubes do.
A braided protective sleeve
But unlike these tubes, braided wires are breathable. This open design has several benefits, such as better reliability and durability.
Why Use Braided Wire Harnesses?
This wire harness protection has several advantageous properties for industrial and commercial applications. These properties include the following.
Flexibility
Plastic corrugated tubes are flexible, but braided wire sleeves take this property to a different level.
So you can fit them in compact spaces or guide them around irregular shapes, and they won't crack or damage the wire insulation.
Open Weave
The breathable structure can pack in several multicolored insulated wires, and you can peak through the fibers to identify specific wires using their color.
Damage Resistant Design
Braided structures offer incredible strength properties, meaning braided cable sleeves can withstand high mechanical stress, cuts, and abrasion.
The result is better protection from harsh environments.
Cushioning
In addition to having a damage-resistant structure, braided wire harnesses provide cushioning because the layer is soft.
Therefore, they can protect your electrical wire bundles from excessive vibrations, heavy impacts, and shock damage.
A plastic sleeve for wires
Fast Heat Dissipation
The open weave design also helps enhance the heat dissipation properties because heat build-up in the bundle can pass through the fibers.
This breathability can avert issues like electrical fires.
Quick Moisture Transfer
If water accumulates around the wires, it can dry quickly because the braided pattern allows it to drain.
Furthermore, it is breathable. So, any moisture will dry faster if the harness is in a warm or hot environment.
This property is ideal for engine wiring because it can drain leaking engine fluids from wires, eliminating wire insulation or tube corrosion.
Non-rigid/Expandable Walls
Unlike their solid wall counterparts, braided wire harnesses have expandable walls.
So you can squeeze thick single cables or wire bundles inside even if they have a slightly broader diameter.
Custom Braid Sleeve Color Options
You can use colored strands to make the braided wire harnesses for aesthetic or functional purposes.
If it's the latter, you can group specific wires in a black braided harness and others in red, blue, etc.
But if it's for aesthetic purposes, you can match the braided harness with the tape or heat shrink tubing you'll install at the ends.
Braided Wire Harness Assembly Types
The braided wire harness technology comes in different types depending on the purpose or function.
General-Purpose Braided Wire Harness
These sleeves are easily adaptable to protect almost any wire bundle because they are expandable and allow cable-side entry.
A vehicle's wire harness
The expandable factor means the cable can widen for easy wire sliding through to the end.
Also, the sleeve can contract to wrap around the wire bundle firmly, creating a neat wire harness assembly even if the cables have size inconsistencies.
Heavy-Duty Sleeve
As the name suggests, this braided harness can withstand harsh conditions, including high temperatures. So it cannot melt, burn, or support combustion.
The braided harness also has corrosion and abrasion resistance properties. So it won't get affected by acids, bases, fuels, solvents, etc., making it ideal for protecting hoses.
Metal-Braided Sleeve
This abrasion-resistant wire harness is similar to the heavy-duty sleeve because it can withstand cuts and wear.
Metal is also a great conductor of heat, making this sleeve suitable for heat-dissipation applications.
A braided metal sleeve
However, the most significant advantage of this metal sleeve is its resistance to EFI, RFI, UV, and ESD.
Some even have germicidal/antimicrobial properties. If the metal is stainless steel, the sleeve can protect the wires inside from rust if installed in a humid environment.
Flame Retardant Braided Wire Harness
These sleeves resemble the general-purpose type but with improved flame resistance properties.
So, you can use the braided wire harness in applications vulnerable to electrical fire threats.
Advanced Engineering Braided Sleeve
This braiding solution exhibits these exceptional resistance capabilities.
Excellent chemical resistance
Temperature resistance
Excellent abrasion resistance
Bacterial growth resistance
It offers these properties while remaining pliable and lightweight.
High-Temperature Braided Wire Harness
High-temperature braided sleeves offer extreme resistance to high and low temperatures, making them suitable for high-heat engine applications.
Those made with fiberglass and silica strands provide thermal protection in high-temperature environments of up to 2000°F.
Specialty Braided Sleeve
These braided harnesses have specific tasks to match their application.
For instance, some can have noise/interference reduction properties if the cables transmit sensitive electrical signals.
Automotive Braided Wire Harness
As the name suggests, these braided harnesses are for use in vehicles.
They must have exquisite abrasion resistance coupled with noise and temperature resistance, especially if protecting wires in the engine bay.
A factory worker testing the quality of wiring harnesses for cars
Materials Used To Make Braided Wire Harnesses
You can also categorize braided wire harnesses using their construction material, which includes the following.
Nylon
Nylon is the most common material used to manufacture braided wire harnesses because it is lightweight and flexible.
Weight matters because cars and other types of machinery can have tens of kilometers of wire harnesses.
The flexibility of the material also allows it to conform to different shapes.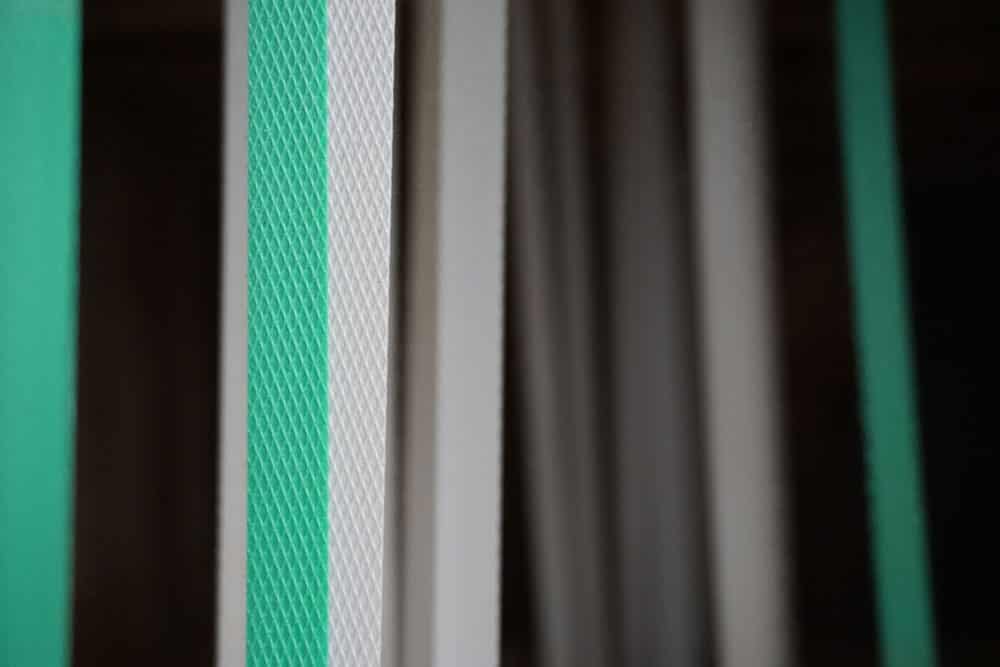 Braided nylon
On top of that, nylon has an abrasion resistance advantage, making it a favorite for making car braided wire harnesses.
However, the material has limited chemical, UV radiation, and corrosion resistance properties, and it becomes less stable when exposed to high heat levels.
So, such braided wire harnesses are not ideal for the engine bay, especially areas where it can get exposed to automotive fluids.
Polyester
This material is more flexible than nylon because it can expand up to three times its size. So, polyester braided sleeves wrap more firmly around oversized or irregular cables.
These braids are also resistant to abrasion and corrosion. On the downside, polyester becomes unstable when subjected to UV, chemicals, and extreme temperatures.
Polyethylene Terephthalate (PET)
PET is a polyester variant with the same properties as nylon and polyester (lightweight and three times as flexible).
However, the material has the advantage of extreme fluid resistance, including water, making it ideal for covering engine wires.
The chemical composition of PET is a material commonly used to make plastic bottles.
Additionally, PET can withstand UV light, impact, abrasion, and high temperatures.
So, it can increase the lifespan of stretched wires by easing the strain applied on them, which avoids cracking or breaking.
Polyphenylene Sulfide Monofilaments (PPS)
PPS is not as flexible as PET, polyester, or nylon. Plus, it offers limited UV and corrosion protection. But it wins in flame and chemical resistance.
The material is inert to engine fluids, acids, bases, and steam, making it ideal for protecting wires from such exposure. PPS is also very lightweight.
Nomex
Nomex is similar to PPS in many ways. It is lightweight, heat and flame-resistant (with a higher melting point), and can withstand radiation, solvents, acids, moisture, abrasion, and chemicals.
These braided wire harnesses might seem perfect due to the durable material construction, but they have some downsides.
Nomex is less flexible than nylon and polyester and offers limited protection against UV light and corrosion.
Wrap Up
Braided wire harnesses offer more benefits than flexibility. However, the primary factor that determines the properties of the sleeve is the construction material.
So, the categorization by purpose or function primarily depends on the strand material. But the benefits described above apply to all these harnesses.
That's it for now. Contact us if you think we've left something out. And let's keep the conversation going on in the comments below. Cheers!