About car RCA cable, Most cars have stereo systems that let you enjoy music at the wheel.
Sometimes, the sound might get poor; even after upgrading the system, nothing improves. In most cases, the problem arises from the RCA cables linking the stereo system.
RCA cables are critical for transmitting signals from your stereo system to the speaker or subwoofer. Therefore, a reliable car RCA cable guarantees high-quality sound output.
Fortunately, there are many reliable RCA cables to select from.
Keep reading for car RCA cable information to enjoy quality music in your car.
Table of Contents
A Simple Guide to RCA Cables
Generally, RCA cables transmit signals from the source to the speakers, subwoofer, and amplifier. They can transfer both video and audio to an output device.
Therefore, if you have ever connected your TV to a DVD player, you used an RCA cable. They're designed with color-coded plus corresponding to the ports behind your output device.
(RCA audio and video cables)
The Two Types Of RCA Cables
Although several RCA cable types are on the market, two notable ones exist. Check them out below:
Composite Video
Composite video cables are the most common RCA cables. The left audio is white or black, while the right is red.
Additionally, there is a yellow composite video plug. The composite analog video plug will transmit videos in a single signal.
(music cable)
Component Cables
These are more complex RCA cables; you can use them to hook up things to your HD television. They come with two audio lines and three video lines.
Typically, the video lines have blue, red, and green colors. However, the audio lines have red and black or white colors.
RCA cable manufacturers add extra color to eliminate confusion between audio and video red lines.
Component RCA cables can output quality resolutions of 480p, 1080p, or more.
(Component cables)
What Makes A Quality RCA Cable?
The Connector Materials
Your connector materials will affect an RCA cable's performance, durability, and price. Most RCA connector materials are copper, silver, and gold.
A gold connector is the most expensive. Additionally, you'll find gold to be more corrosion-resistant. Therefore, you'll have to do less maintenance.
Unfortunately, gold isn't the best material for electrical conductivity. Generally, silver is the best conductor, with copper coming a close second.
Sometimes, you might find zinc, tin, and nickel connectors.
(RCA cables connected to the device)
Cable Length
In most cases, longer cable experiences poor signal transmission. Therefore, we recommend buying only the cable length you need.
Proper Shielding
Here, your cable should be shielded to counter frequency and electromagnetic interference.
The cable will achieve this by reflecting the signals from its body. Also, it might pick the signals and conduct them to the ground.
Check out the common shielding types below:
This is the oldest shielding type. It comes with a few thin wires that have been braided together. Therefore, the shield has steel, aluminum, or copper materials.
For these shields, every strand is wrapped around a conductor. Therefore, they're more flexible and easy to terminate. These shields are highly effective for audio signals and are commonly used in microphones.
Tape shields are mainly designed with polyester layers and aluminum glued together. However, they aren't durable compared to braid or spiral shields, thanks to the pressure-sensitive adhesive.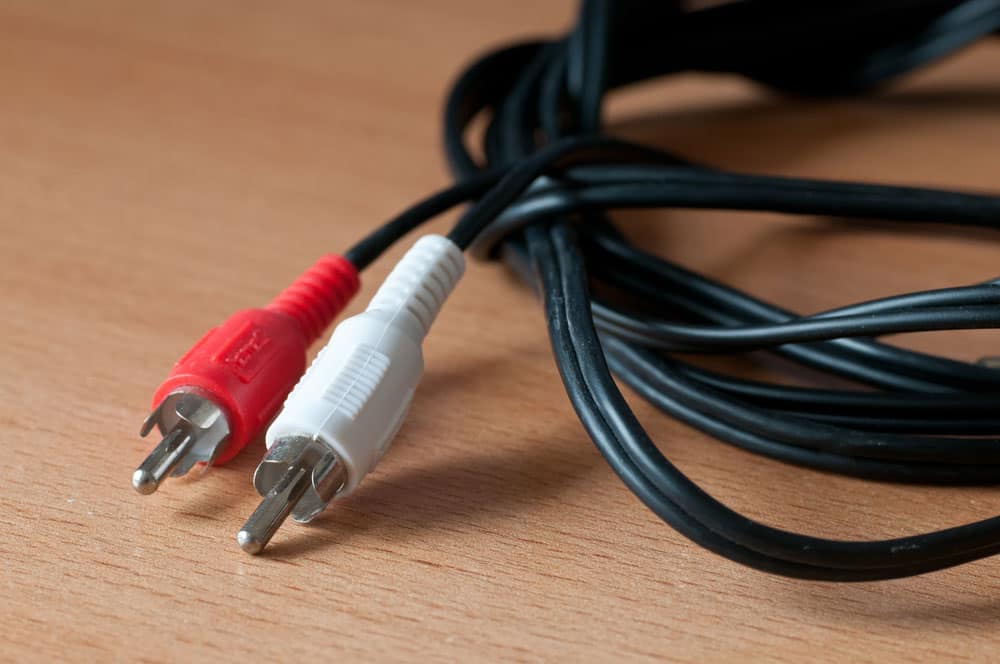 (RCA audio cables)
What Can We Do With RCA Cables?
RCA cables have been around for over 70 years. And although nowadays people prefer HDMI to connect smart devices, there are cases where RCA cables perform better.
For example, you'll need an RCA cable to connect your camcorder to a TV. Most camcorders have one video and two audio jacks.
Therefore the video and audio signals undergo compression and the sent via a single line. Additionally, if you own an old video console like Xbox 36 or PlayStation 2, connect it to your TV using an RCA cable.
Furthermore, most car equalizers come with RCA inputs and outputs. Therefore, you can link them to older stereo units with ease.
(HDMI images)
How Are RCA Cables Used In Car Audio?
RCA cables find several applications in your car's audio system. First, you can use it to connect the amplifier and head unit. Additionally, you can use it to link the subwoofer to the head unit.
The Best RCA Cable For Car Audio
The market is full of high-quality RCA cables to choose from. Fortunately, we have highlighted the options below:
Amazon Basics RCA Cable
Amazon Basics RCA Cable is reliable for offering crystal-clear audio.
Pros
Firstly, they have a tough PVC coating
Secondly, the connectors are corrosion resistant
Thirdly, functions well with most audio jacks
Finally, it produces clear audio quality
Cons
Connectors might feel bulky
CableDirect Stereo Audio
The CableDirect stereo audio cables support analog and digital audio kits.
The connectors here are gold-plated and will flawlessly transmit signals. A PVC jacket protects copper to limit electromagnetic interference.
Pros
At least five sizes to select from
The connectors are gold-plated to limit corrosion
There is no RF or EMI interference
Cons
You'll find the cables to be stiffer
Postta 2RCA to 2RCA Cables
The Postta RCA cable is compatible with all 2RCA port devices, including PS3, speakers, and Blu-Ray players.
Pros
It has a tough PVC exterior
Interference is nonexistent
The cable is available in different lengths
The connectors are corrosion resistant
Cons
Some reviewers complained that it broke after a few weeks of use
(Photo of a single RCA cable)
What is a Subwoofer Cable?
Subwoofers cables are powerful RCA cable versions and alternatives. These cables come with more shielding to eliminate noise and interference.
They have thicker insulation and heavier gauge wire. Therefore, the cable will offer you high-quality audio quality.
(speaker cable)
Subwoofer Cable vs. RCA Cable
You can use a subwoofer or RCA cable to link your subwoofer and sound system. Check out their pros and cons below to make an informed decision:
RCA Cables
Pros
You'll find an RCA cable easy to find and cheaper.
It's the best alternative for connecting a subwoofer to video or audio components since it accompanies them during purchase.
You'll find it easier to use an RCA cable. All you need is to plug it in.
Cons
RCA cables don't deliver enough power to your subwoofer for demanding needs.
It can distort low-frequency sounds.
Subwoofer Cables
Check out the pros and cons:
Pros
Subwoofer cables are highly durable, thus delivering more power for high-volume applications. It facilitates high-quality sounds.
It features heavy-duty shielding and insulation that limits signal distortions.
Cons
Subwoofer cables are more expensive than RCA cables.
(Cable Diagram)
Can you use an RCA cable for your subwoofer?
You can use your RCA cable to connect your subwoofer if it has the relevant connectors. However, it won't provide the same performance as a subwoofer cable.
FAQ
How Many RCA Cables Do You Need For A Car Audio Setup?
You'll need one RCA cable for every subwoofer or amplifier. You'll need six cables if you have four subwoofers and two amplifiers.
How Many RCA Cables Do I Need For A 4 Channel Amp?
You'll only need two cables. A single cable will serve each side's channel.
How Important Are RCA Cables?
RCA cables are essential every time you want to connect audio devices. The best RCA cables will provide high-quality sounds. Consequently, you can enjoy your favorite music while driving.
Do You Need RCA Cables On An Amp?
You don't need RCA cables to install an amp. However, ensure the factory radio can work with line-level connections and speaker-level inputs.
Are XLR Cables Better Than RCA?
There are scenarios where each cable functions better. However, we find XLR cables to be more professional cable standard, thus perfect in professional settings than RCA cables.
(XLR Cables)
Conclusion
We have provided all the information you need to buy the best RCA cables.
RCA cables allow you to transmit signals from the source to thAbout car RCA cable, Most cars are designed with stereo systems that let you enjoy music while at the wheel.