About OEM wiring harness, All modern machinery and equipment require electrical and electronic components.
All these components combine control signals, power and other interface features, and unique wire assembly requirements.
A wire harness is an integral part of any equipment, and every machine, vehicle, or other equipment requires wire harnesses that meet exact specifications.
An OEM manufacturer does this job of manufacturing exact parts of a system as per its strict configurations.
This article will detail OEM wiring harnesses and their design process.
Table of Contents
What is an OEM wiring harness?
Before understanding an OEM wire harness, you must know about wire harnesses. A wire harness comprises cables, wires, terminals, and other components.
All these components remain protected under the insulation layer, sheath, and other layers to fit the environmental needs.
An OEM wire harness refers to a harness manufactured with the extract specifications of the original one to fit in the existing system.
For example, a vehicle has different systems requiring power to exchange data, signal, and power.
All these systems need wire harnesses specifically designed to fit the vehicle's design and space.
As you know, vehicles undergo many environmental forces, so manufacturers must find efficient ways to protect the wire harnesses.
All these considerations are taken during design and prototyping so that the custom OEM wire harness meets exact specifications.
If you are restoring your car to its original configuration or are making a fully-customized truck, jeep, or anything with four wheels and an engine.
OEM-style harnesses are the best help. These "plug-and-play" harnesses are easy to install.
There is no need for any wire, cut crimp terminal, or other modifications, as the configurable harness meets all your requirements.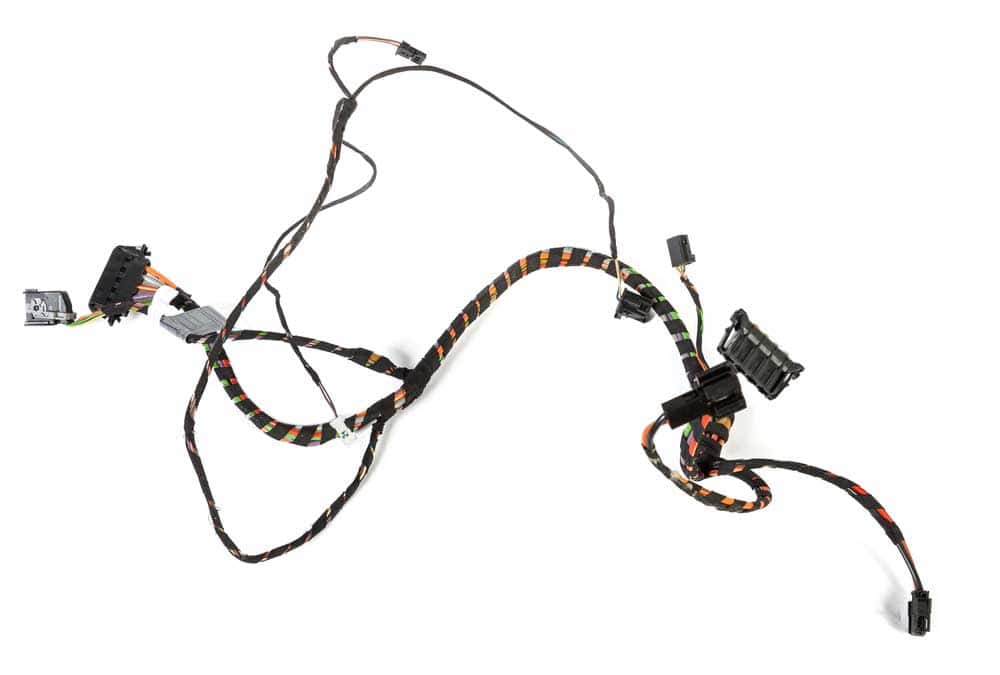 OEM harness
Designing an OEM wiring harness:
The design of the OEM wiring harness is essential for the overall system's functionality.
In designing, manufacturers must consider these factors for complete system function and protection.
Space limitations:
Whether it's an industrial component, an automobile, or a fighter jet, cables and wires in the harness have to move along tight spaces to set connections between different components.
Also, as the cables/wires bend during connection, designers must use suitable designs to avoid breakage.
Power/data/signal requirements:
Depending on the requirements, electrical systems may need different types of cables, ranging from coax to Cat 5.
Cable engineers choose different gauge wires depending on the current requirements within the system.
As the cable size varies, they need to be careful while choosing filler materials and insulation.
All these details might not look prominent in the finished harness, but without these details, one cannot build a functional system.
Protecting against environmental factors:
Cable engineers plan the initial design based on the environmental factors electrical systems will face.
These variables include moisture, heat, abrasion, and oil chemicals.
Manufacturers must implement restrictions against all these variables to keep the electrical system unaffected.
In addition to design, makers also take care of the budget to make the harnesses feasible for use.
Bringing concept to reality to build an OEM wiring harness:
While designing the new OEM wire harness, designers run various design forms through modeling software.
It checks how the system works with each design under different simulations. Once a design is final, it is termed a schematic.
Now, designers translate this design into a physical board or pinboard.
Imagine a board as a large diagram of the OEM harness mapping out different parts and pieces at their specific positions.
The locations of these components are set to ensure that the design meets the application requirements and specifications.
Different wires and cables have different identifying features, along with the connector housing, correct terminals, and other parts to be integrated into the final harness.
All these components together ensure maximum utilization and efficiency of the final product.
Engineers also use structural support elements like ties, sleeves, and straps to hold and strengthen the entire assembly.
Also, manufacturers use different automatic, semi-automatic, and hand tools to produce these components.
Remember, despite so many automatic and semi-automatic machines, most OEM wire harness assembly manufacturing still requires manual efforts to complete intricate processes with high precision.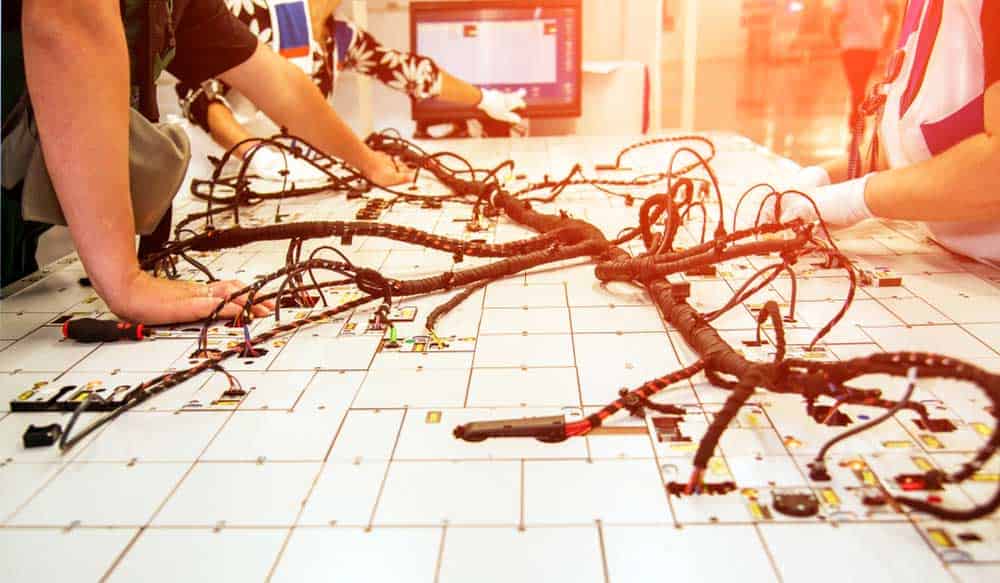 Translate a design into a physical board or pinboard
Testing the OEM wiring harness:
Testing comes after the design and prototyping phase and is a continuous part of design and prototyping.
After all, to achieve the project milestone, one has to be careful at each step.
Testing done during prototyping helps save time and money in the long run and ensures that the final design remains the most efficient.
The electrical testing of an OEM harness starts at the test board programmed to test a product's specific features.
Engineers put the harness on the test board as it would be installed in the final application.
The testing phase tests the harness for real-life situations like bending, burning, freezing, or stretching.
Nowadays, manufacturers also have automatic testing machines.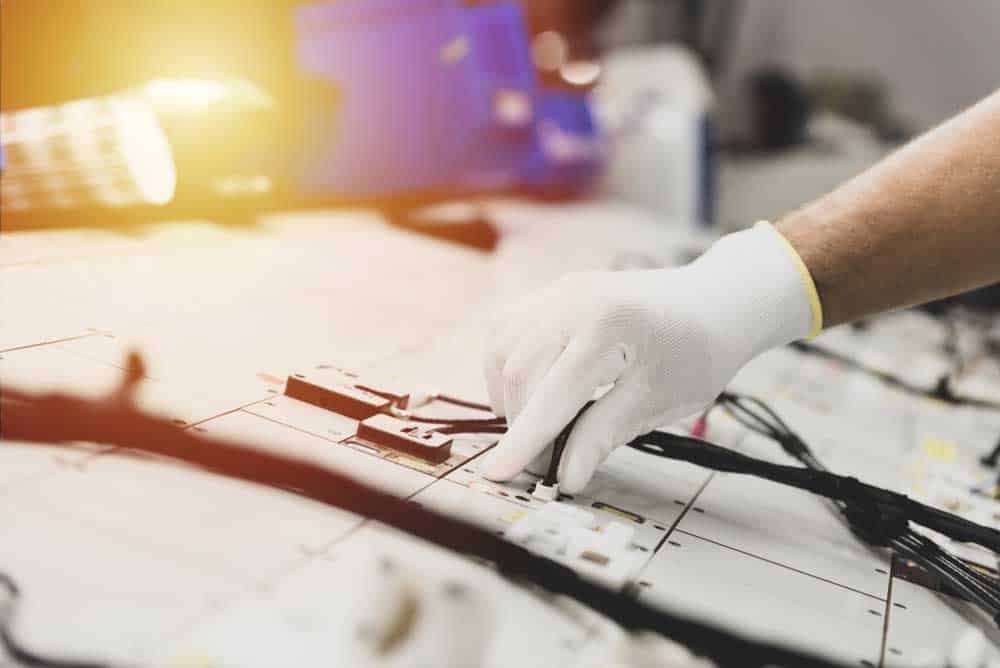 Checking the system on the control desk
Choose Cloom as your OEM wiring harnesses manufacturer:
We provide our customers with the best and most functional wiring harness and cable assembly with the following:
Auto wiring harness wires: Cloom ensures high-quality wires that can bear adverse and extreme weather conditions in industries like oil and gas.
Our wires are flexible and resistant to UV, abrasion, moisture, heat, and fluid.
Termination: Termination is critical in any wire harness manufacturing; we use only superior-quality crimps and applicators.
We also perform equipment corrections and crimp tension tests at regular intervals. It is a mandatory step in our quality control processes.
Connectors: We always use original connectors from reputed and trusted makers.
Assembly: Our harnesses comply with IPC/WHMA-A-620C, an international standard that details the requirement and acceptance for cable and wire harness assemblies.
Braiding: When using conduits, wiring may be damaged when it comes in contact with contaminants, but braiding holds the wiring tightly.
Also, braiding does not allow any wire movement and reduces harness diameter, making it easy to install in tight spaces.
Quality control: We ensure that our products follow high-quality standards. Our engineers and technicians perform visual and technical testing procedures with a hi-tech test bench.
We check the wire harness's resistance, capacitance, continuity, and diode polarity, ensuring all the products are manufactured to their specifications.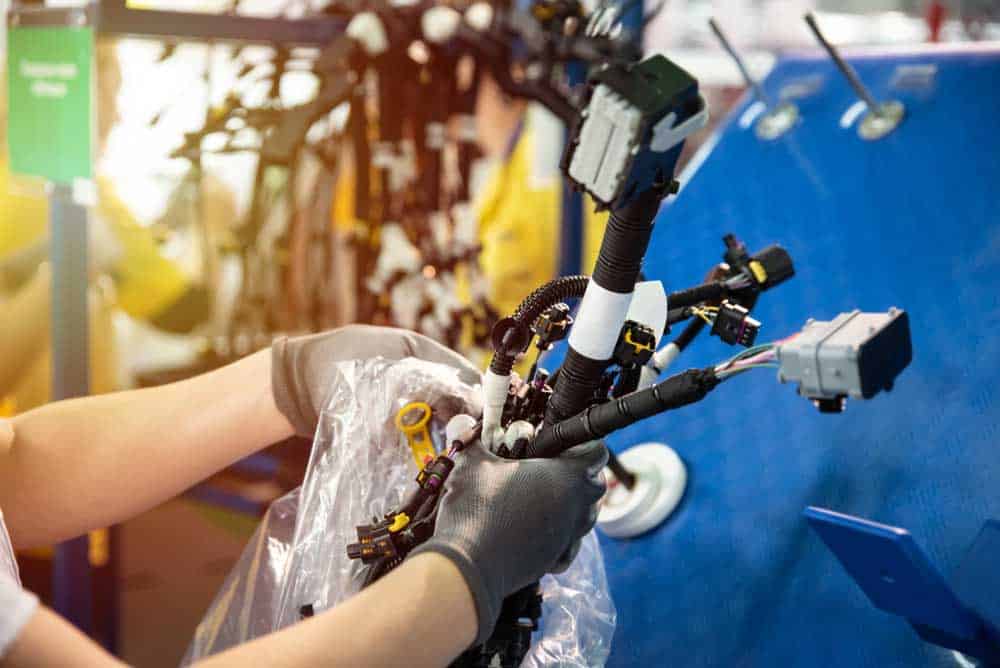 Workers are packing the wiring harness.
Conclusion:
It is essential to consider all the constraints above to successfully fit the custom-designed OEM harness in the framework.
Also, you can contact our team to discuss your needs or any other help. Cloom engineers can handle even the most complex integration problems, offering a smooth " drop-in" fit.