Your old car wiring system needs an upgrade or a long-awaited rebirth. You may have brainstormed all the necessary ideas and are probably wondering, 'what wiring harness do I need?'
Good news, you are in the perfect place. Getting a new efficient, well-functioning wiring harness takes thorough research when aiming for quality.
Luckily, our team of experts has gained extensive knowledge on the wiring harness, and we'll share the gem with you in today's post.
Table of Contents
What is a Wiring Harness?
Generally, an automotive wiring harness means a collection of wires.
The wires link all the automotive's components and electrical devices to the primary/main power source.
Structurally, a wire harness comprises at least 8-12 circuits and a fuse box.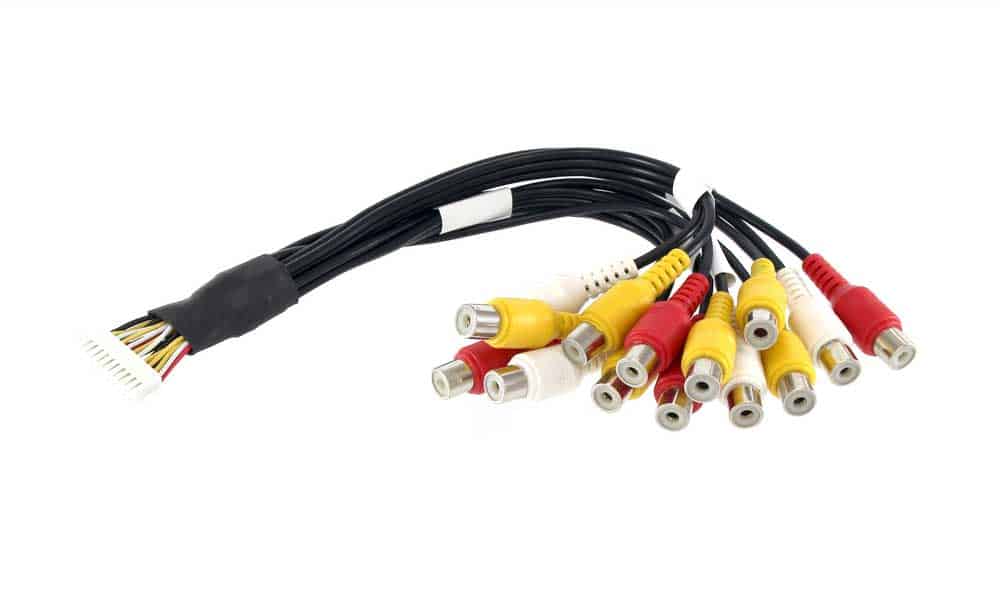 (Automotive wiring harness)
What Are Circuits in a Basic Wiring Harness?
Circuits are electrical elements or wires that perform specific tasks.
For instance, one circuit is enough for a starter's or glove box light's wire. Contrarily, a set of wires for your headlights may need two circuits.
The number of components in your car will determine the number of circuits you use.
Therefore, depending on your vehicle's circuit compatibility, you may require a 24, 18, or 12 automotive wiring harness.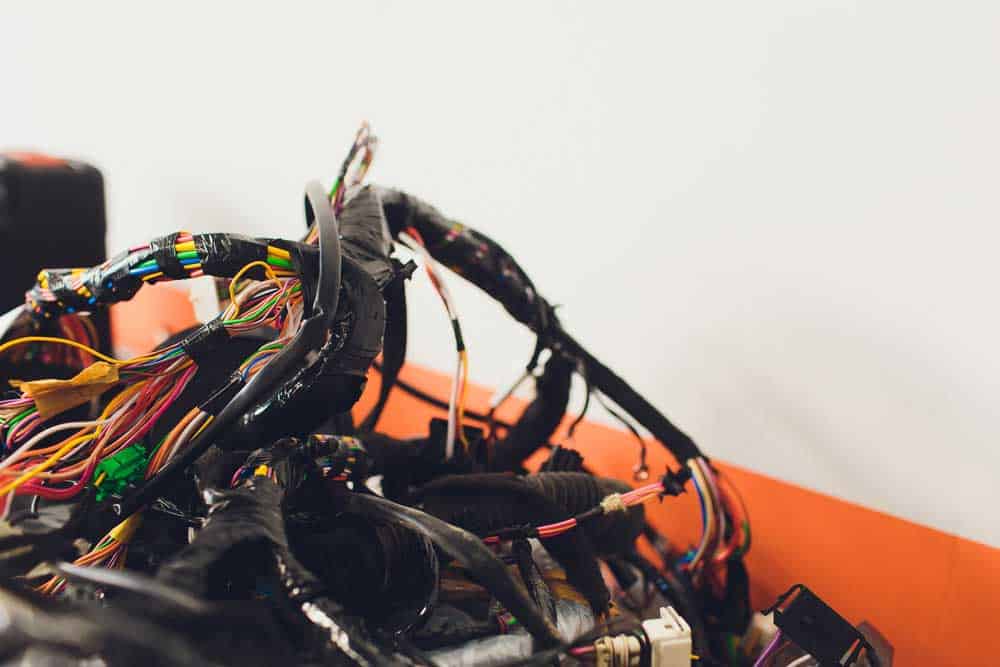 (Car wiring in a car system)
Choosing The Right Wiring Harness Type
They consist of the following;
Fuse Box
For our first wiring harness type, you'll find unterminated wires at the fuse panel and terminated wires at the ends.
Here, you have to terminate the ends of the wire at the fuse box.
However, you'll need spacious fuse boxes to be able to put up with the connections.
Pro-Series
Despite not having pre-termination like a Direct-Fit harness, it contains all the connectors or terminals required. You'll also have to terminate the wires at the touched-up fuse box.
Pro-series helps you tuck and lay wires as per your desire. Additionally, the wires are long enough, and it'll give you an easier time hiding compared to a factory setting.
Then, the wiring harnesses have prints and color cords containing numbers within the instruction manual.
It comes in grommet or bulk-head styles, which may provide a trunk mount version to help you mount the fuse panel on the trunk.
Universal
Thirdly, thanks to its flexibility, you can adapt the universal wiring harness to fit into your car.
Moreover, it has an instruction book that shows the functions of each wire, the steps for hooking them up, and several applications for different usage.
Often, you'll find numbers and a short description of all the wires.
But, using this wiring harness will require you to be knowledgeable in appropriately figuring out and hooking terminals.
Fortunately, you can order them with a bulkhead or grommet to help you pass the wires where you want.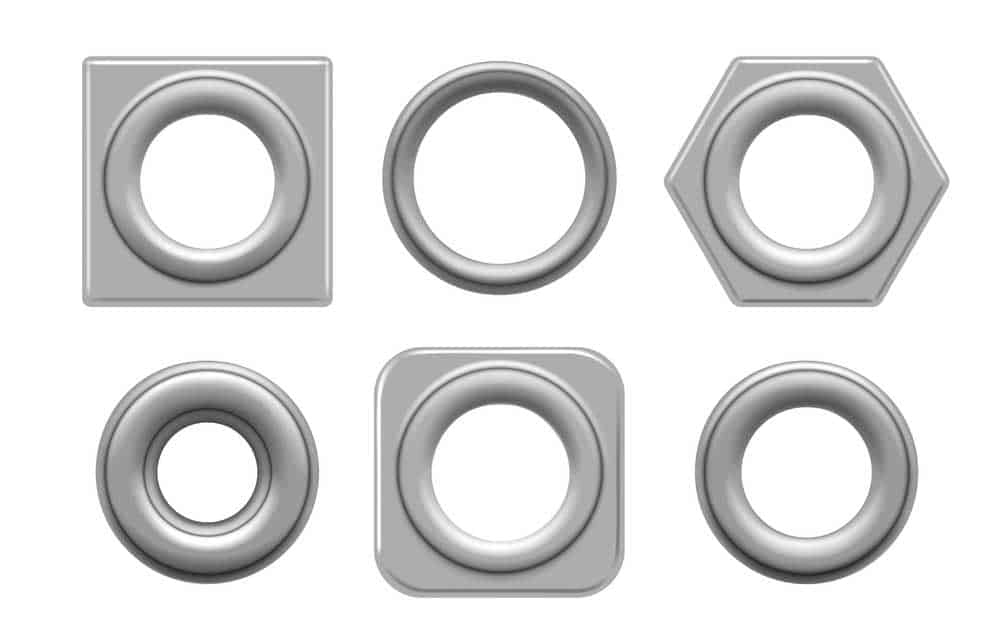 (Eyelets and grommets)
Direct Fit
Our last wiring harness type with pre-terminated wires. Thus, it only requires laying in a car and correctly placing the connectors.
They have replaced OEM even though some (e.g., Painless Performance) offer upgrades like extra circuit connections and mini-blade fuse boxes for improved wiring essentials.
Also, this, by far, is the simplest wiring harness to install. However, you won't be able to tuck away the direct fit factory bulkhead connector somewhere else.
Furthermore, you'll have to slice and alter the harnesses to alternate the ends/wire layout to a different design.
Which Wiring Harness Do I Need?
The following factors will help you in your quest for worthwhile wiring harnesses:
Your Requirements
Some questions you'll need to answer before purchase are the uses of the wiring harness and your power source equipment.
In that way, you'll decide which harness you need based on your preferences and needs.
Simplicity in Installation
While some wiring harnesses have easy installation processes, others may take ages to put together.
Either way, your choice should reflect your most urgent needs.
Size
Usually, a big wiring harness is recommendable since it will withstand your vehicle's power requirements.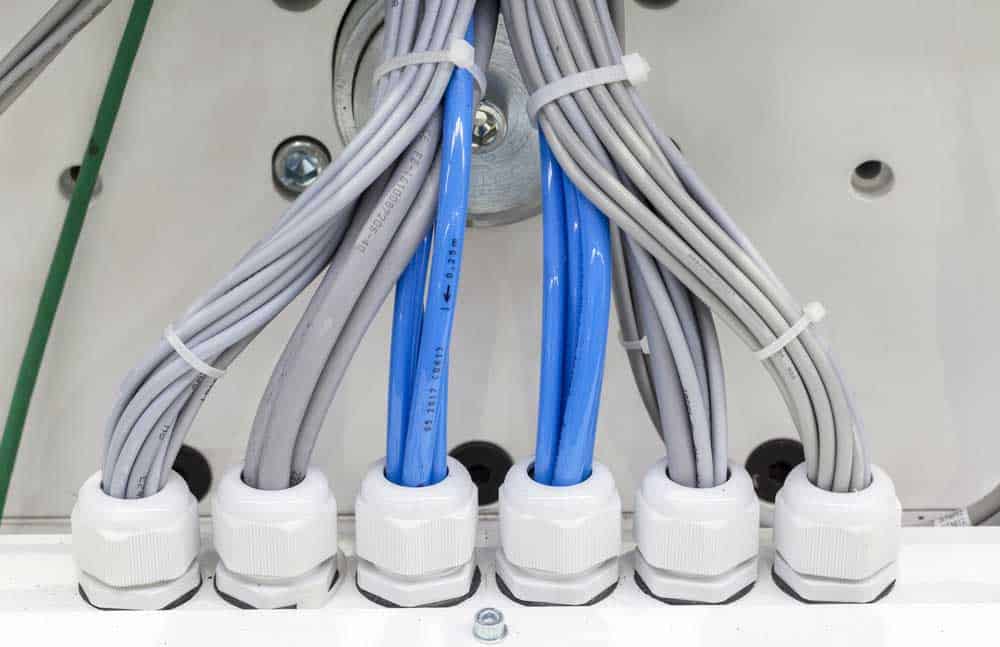 (Powered wiring harness)
Features
Usually, you'll find some wiring harnesses possessing additional features like offering protection from environmental hazards or electrical interference.
Additionally, some may be more durable than others. So, besides the usual requirements, you can also look into the specific features.
Determining the Quality of the Wiring Harness
The wiring harness materials should be high quality to last a long time without untimely damage. In most cases, the materials impact your wiring harness type.
For instance, metal components require shielded wire harnesses to prevent electrical interference. However, plastic materials won't need shielding.
Vehicle Type
Note that all wiring harnesses have designs that fit different vehicles and motorcycles.
Therefore, ensure your choice of harness fits your equipment's needs.
Affordability
When choosing affordable wire harnesses, settle for a quality one.
Depending on the complexity and additional features, some may be pricey or cheap. Regardless of the situation, the worth should count.
What wire harnesses Do I Need: System Type
Several systems operate differently under a set of requirements.
For instance, the wire harnesses for a home theater system hugely differ from the ones for a car stereo system.
What Wiring Harness Do I Need: Compatibility with your vehicle
The components in your vehicle should always match the wire harnesses in use.
What Wiring Harness Do I Need: Complexity and Size
Your system's complexity and size will determine which wire harnesses you'll use. For example, a simple wire harness is good for a small and basic system.
On the other hand, more ultra-modern wire harnesses will suffice for a large and sophisticated system.
Tips for Finding the Best Wiring Harness
Now that we've considered some factors for choosing the best wire harnesses let us consider other tips that'll help you in a retail shop.
See How the Connectors Stay Connected
Generally, most wire harness manufacturers use crimping to link connectors and wiring.
The crimping equipment must be precise to enable the cables to perfectly transmit signals, power, or data without deterioration.
Thus, your manufacturer must do quality testing on the crimps to ensure they work effectively.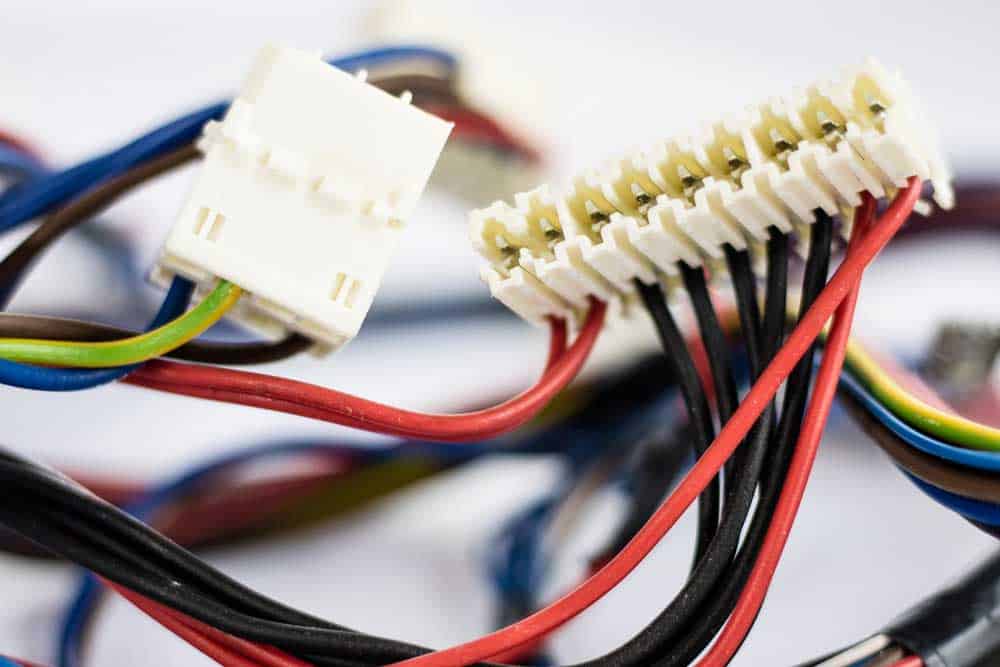 (Wires and electrical connectors)
Check if the Harness Is Expandable
Expandability depends on the ability of wire harnesses to handle amperage more than the circuit quantity.
If your harness can expand, it'll perform well under any condition and ensure minimal voltage drops in all circuits.
What Wiring Harness Do I Need: Contact Tech Support
Finally, you should be able to call your manufacturer and inquire about the features, expandability, current limits, etc.
If you experience a delay or hesitation with the answers, the manufacturers may not be well-versed with the products as expected. Also, they may not assist in wiring your hot rod.
Conclusion
Choosing good wire harnesses requires a lot of effort and skills. Luckily, we've exhausted a few concepts on types, factors, and tips on getting the best wire harnesses in the market.
We guarantee a smooth ride when searching if you follow the steps above.